June 23rd, 2015
Digital Tools Webinar
Lunchtime Webinar – Online Event
About the Event #DigiLearnWebinar :
The recent FELTAG report recommends that 10% of learning in Colleges be taught and delivered online and this is to rise to 50% by 2018.
Prospects College of Advanced Technology (PROCAT) is hosting weekly lunchtime webinars for the sharing of effective practice and training of digital learning tools – between Colleges, FE, HE, Schools, Employers and other interested parties. The webinars are free to attend. Attendees are welcome from all locations.
Each webinar will consist of two speakers each presenting for 30 minutes. You are free to attend 1 or both webinars and to participate simply by listening and viewing and/or taking part through web cam, audio and text chat.
Sponsor:
If you would like to showcase what you have been doing at your organisation (slots can be as short as 5 minutes) or if you would like to present a 30 minute training session, please email katharine.jewitt@procat.ac.uk 
FAQs
What is the Digital Learning Weekly Webinar Hashtag ?
Please use the hashtag #DigiLearnWebinar
Where can I contact the organiser with any questions?
If you have any questions, please email katharine.jewitt@procat.ac.uk
Webinar : 1st July 2015 :- Triptico Tools and Go Animate 
You will be emailed a link to attend the webinar.
All webinars are recorded and can be viewed at a later time, if you are unable to attend live.
Presenters: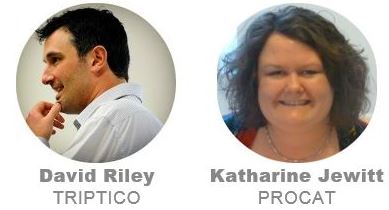 Triptico is a collection of engaging interactive resources. In this 30-minute webinar, David Riley, the creator of the app, will demonstrate the ease with which the resources can be customised and shared for use in any subject and with any age and ability range. David will focus on Triptico Tools  and show you how simple classroom tools can be used for a multitude of purposes across all subjects – a great way to add interactivity to learning.
GoAnimate4Schools is a simple do-it-yourself-digital-tool for students to fully express their creativity through animation videos. In this 30-minute webinar, Katharine Jewitt will demonstrate how she has used animation videos in college in a variety of subjects. During the session you will learn how to create your own animations with backgrounds, characters, sound and movement.
Please visit the events page on this website for the booking link 
Visit PROCAT Prospects College of Advanced Technology
This PROCAT Digital website is produced to report on activity from the Digital Learning Fellowship at PROCAT Prospects College of Advanced Technology, funded by The Education and Training Foundation.